That's right, cappie. It's a good ol'fashioned exclusive giveaway.
So here's what you get:
10 (yes, 10) of you will be joining me as we sample the all-NEW Bulleit Rye Whiskey, get our hobnob on with the brand's founder, Tom Bulleit, have cocktails, and partake in a delicious pig roast.
I KNOW, RIGHT? This was me when they told me about it: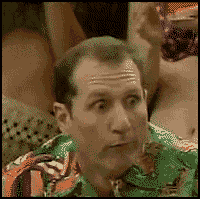 So yeah, the party is tomorrow night (Wednesday, April 13th),you obviously have to be 21, and the event is at a location I'm not at liberty to discuss since it's only by invite.
Tell you what.  Leave a comment and tell me what you love most about Whiskey. I'll pick my favorite 10. Don't bro out and say "it's good!" or "It's amazingandIshouldwinbecauseIneverwinanythingandyouneverpickmewaaaah".
Seriously, let's have some fun with this! Good luck.